Five teachers from Leon, Gadsden and Wakulla counties spent their summer as MagLab interns, learning skills related to cutting-edge magnet science.
"This experience reminded me of how much I like science," said Joy Breman, a 2008 Lincoln High School and 2012 Florida State University graduate who will be a teacher at the Challenger Learning Center this fall. "It reminded me why I want kids to understand how the world works and why knowing how it works matters."
The teachers were among a dozen K-12 instructors accepted into the Magnet Lab's prestigious six-week Research Experiences for Teachers program, which provides each teacher with a $3,600 stipend. The Big Bend interns came from Leon County's Deerlake Middle and Astoria Park Elementary schools and the Challenger Center; Gadsden County's Shanks Middle School; and Wakulla County's Riversink Elementary School. Each teacher was paired with one or more MagLab scientists and mentors. The Big Bend teachers learned about superconductivity, nuclear magnetic resonance and magnetometers.
"We made proteins," Breman, 23, said of her lab project. "We wanted to see how the protein that we made interacted with other proteins."
Adreanna Gimenez, meanwhile, spent her time at the lab learning about a synthetic material, niobium tin (Nb3Sn). It's a superconducting material that allows electricity to flow without resistance (or loss of power). Formerly a teacher at Crossroad Academy Charter School in Quincy, Gimenez, 29, will be a first-grade teacher at Tallahassee's Astoria Park this fall.
"I strongly believe that the primary grades provide the foundation for all learning," she said. "In the early years, there seems to be a focus on language skills and math, but I also want to incorporate lots of science into my lessons. Now that I have science experience in the real world, I just know I'm going to be better prepared to teach my students."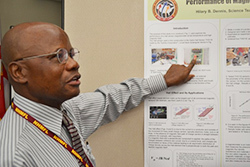 Gadsden County teacher Hilary Dennis said that presenting his lab project on magnetometers (instruments used for measuring magnetic forces) on a poster has convinced him to use a similar method in his classroom.
"I want my students to work in groups and build a poster about their science project that they can print," said Dennis, who has taught in Gadsden County for more than two decades. "This experience was difficult when I first began, but now, when I look at my poster, I feel like I have really accomplished something. I'm feeling really good."
Erin Smidt, a seventh- and eighth-grade teacher at Deerlake Middle School, said she, too, is excited about sharing some of what she learned with her students. Working with scientist mentors Jianyi Jiang and Eric Hellstrom at the lab's Applied Superconductivity Center, she examined superconducting wires — wires made from materials that conduct electricity without resistance if kept incredibly cold. The wires she studied may ultimately end up in a small but powerful magnet.
"I never knew about superconductors before I came here," she said. "I think it will be exciting to teach my students a little bit about superconductivity and about working with this cutting-edge material, the Bi-2212, that will eventually be used in ITER, which my middle-schoolers have probably never heard about either."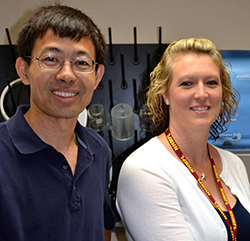 ITER (pronounced "eater") is an acronym for International Thermonuclear Experimental Reactor. ITER is an international fusion project that sounds like science fiction. Its goal is to create a star, suspend it in a magnetic field and tap into its energy to provide the world with clean power. To do that requires a great deal of superconducting wire. Smidt worked with the superconducting wire Bi-2212, made from bismuth, strontium, calcium and cooper oxide.
Smidt's partner on her superconducting project was Katrina Roddenberry, a fifth-grade teacher at Riversink Elementary in Crawfordville. Roddenberry took pictures of several MagLab scientists' working notebooks to show her new students this fall, as she wants them to keep science notebooks, too.
"I'm also going to share with my students how much the scientists at the MagLab collaborate with each other," she said. "I think that will help them appreciate the importance of learning to work together in groups, which is something we do a lot of."
"This has been a really wonderful experience for me," she added. "It made me excited about science and about being able to share with my students how scientists actually do things. It's going to be a really good school year."
By Kathleen Laufenberg