It might not seem obvious, but an animal shelter can be a great place to grow students' interest in science. Like Emma Macedo who is only 11, but learned some grown-up lessons when her SciGirls camp visited the Tallahassee-Leon Community Animal Service Center this July.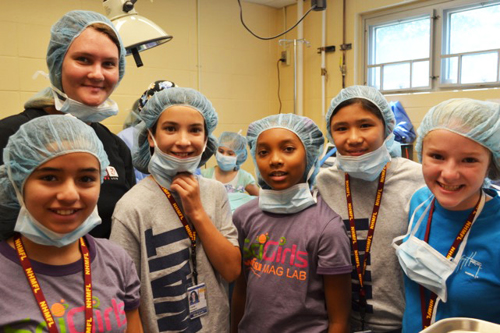 "This place is so big," Emma said, as she stood in the shelter's bustling lobby beside a caged rabbit. "I thought they just would have a couple of kennels, but they have a lot of pets here, and a lot of them still need homes."
SciGirls is a two-week, hands-on summer camp run by the MagLab and WFSU for girls in middle-school. The program, launched in 2006, gets girls excited about careers in science.
All of the 35 girls in the program toured the 12,500-square-foot animal shelter and saw some of the nearly 400 animals housed there. They learned that, last year, nearly half of the animals that came into the shelter were euthanized, many because no one wanted them.
While the SciGirls learned some hard truths during their visit, they also learned what they could do to make a difference, particularly spaying and neutering their own pets. The girls were excited to go behind the scenes at the shelter, too. They got to watch veterinarian Rachel Barton spay a puppy — and two girls even volunteered to help. One girl shaved the little female pup's belly/spay area. After the surgery — which went very well — was completed, another volunteered to clean the area.
"I was a little shaky at first," Caroline Kynoch, 11, said of watching the surgery. She was pleased, she added, that all of her family's three cats have already been either spayed or neutered, so they would not be adding to Tallahassee's unwanted pet crisis.
In addition to going behind the scenes at the animal shelter, the SciGirls visited a forensics lab at the Tallahassee Police Department, a wolf sanctuary in Chipley, a marine quarry, local sinkholes and Wakulla Springs State Park.
Because she had so much fun the first time, SciGirls counselor Dakota Poitevint returned for a second year as a counselor. She also attended as a camper twice.
"You get to do stuff with SciGirls that you don't ever normally get to do, like see that surgery," Dakota, 17, said. "The animal shelter is always one of my most favorites. It really shows you how many animals don't have owners and how many animals are here, and how low the adoption rate is."
Working with SciGirls is also a favorite experience for the teachers who accompany them.
"It's every teacher's dream position," said Susan Goracke, a fifth-grade teacher at Leon County's Canopy Oaks Elementary. "These girls are thirsty and hungry for learning. They don't complain about writing, they ask for more paper for their journals. This is just so refreshing, it really gets me ready to go back to school."
The animal shelter deserves special credit for making the day a success, said Roxanne Hughes, director of the MagLab's educational outreach.
"Kim Kelling-Engstrom (WFSU's education director) and I can't thank Rachel Barton enough for the work she does for this program," she said. "Every year, she plans this day with her staff, and it's always a favorite. She does a wonderful job, as do all our scientist volunteers, explaining to the girls how to prepare for a career in science technology, engineering and math."
By Public Affairs