We don't see a lot of cows at the National MagLab. But a few months ago the partial remains of one bovine ended up in the lab's Mechanical and Physical Properties Laboratory — and the results make for some must-see geek TV.
This unique facility supports not only the MagLab by testing materials for magnets designed and built here, but also collaborations such as the International Thermonuclear Experimental Reactor (ITER) project underway in France. Equipped with a thermal expansion dilatometer, ultrasonic elastic modulus and other fancy machines, the lab sees a lot of engineers and physicists.
Paleobiologists? Not so much.
But a few months ago Florida State University professor Greg Erickson, an expert in predicting the bite strengths of dinosaurs, showed up with a couple of cow skulls and a film crew to take advantage of the lab's tools and the expertise of mechanical engineer Bob Walsh.
Their mission: Measure how much force it takes to crush a cow skull.
Why? To find out if a prehistoric megabeast could have made a tasty meal of it.
The answer: We won't spoil it for you! To find out, tune into "Prehistoric Megabeasts: Croc vs. Snake," the documentary that includes the footage.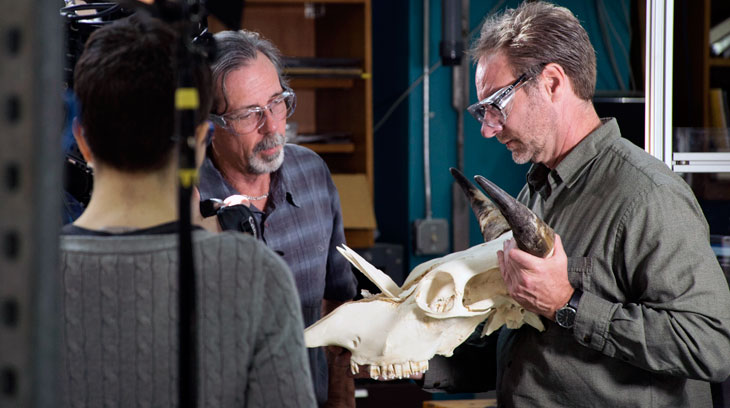 Photo credit: Stephen Bilenky
The film, which airs in the United Kingdom on Channel 4 on Sunday, Aug. 28, and is headed to small screens (watch the video on PBS) in the U.S. and elsewhere later this year, explores the question of which of two humongous creatures roaming the Earth millions of years ago was the awesomest: Titanoboa, a 43-foot snake, or a 20-foot crocodilian discovered in Colombia several years ago – or "one of the world's ultimate killing machines," as Erickson put it.
To help answer this question, the filmmakers brought some cow skulls to the MagLab, where Walsh and his team placed them in a 250 kN (as in kilonewton, a measure of force) materials testing machine and proceeded to apply pressure.
The cow skull wasn't the first oddity that has ended up in Walsh's machines. In previous collaborations with Erickson, he has measured the force required to sic teeth into a watermelon, turtle shell, pig's leg and side of beef. Snail shells and alligator heads have also found their way into Walsh's machines.
"It's way different," said Walsh, an outdoorsman who lives on Tallahassee's Lake Jackson. "It's interesting because I'm into nature and conservation and research in those areas, so it's all for the good."
It's no spoiler for us to tell you that the machine does eventually crush the cow skull with a satisfying crunch — much to the delight of Erickson.
"Got anything bigger?" he cracked. "How about an elephant?"
Looks like Walsh may need to order another machine — size extra large.
For a sneak peak of the skull-crushing materials testing system, check out the video below.
Video by Stephen Bilenky
By Kristen Coyne