Dragana Popovic
Contact Information
Research Faculty III
Condensed Matter Science, DC Field CMS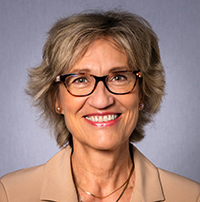 Phone: (850) 644-3913
Address: 1800 E. Paul Dirac Dr., Tallahassee FL 32310-3706
Building: NHMFL FSU
Educational Background
1989 Ph.D., Physics, Brown University
1985 M.Sc., Physics, Brown University
1983 B.Sc., Physics, University of Belgrade, Serbia, Yugoslavia
Research Interests
Experimental condensed matter physics; effects of disorder and strong electronic correlations in two-dimensional (2D) and quasi-2D systems, primarily using electrical transport and resistance noise spectroscopy techniques.
Topics include phase transitions (metal-insulator, superconductor-insulator, structural, and Berezinskii-Kosterlitz-Thouless transitions), charge dynamics (glassy freezing and other out-of-equilibrium behavior), superconducting fluctuations, mesoscopic effects.
Materials include semiconductor heterostructures, layered transition-metal dichalcogenides, copper-oxide high-temperature superconductors, iron pnictides, and quasicrystals.
My research has been supported by the National Science Foundation since 1995 (see "Grants").
Professional Experience
2017-present Research Professor, Department of Physics, Florida State University
2004-present Senior Scientist, NHMFL
2000-2004 Associate Scholar/Scientist, NHMFL
1997-2000 Assistant Scholar/Scientist, NHMFL
1995-1997 Visiting Scientist, NHMFL
1993-1997 Assistant Professor of Physics, City College of the City University of New York
April 1990-1993 Postdoctoral Research Associate, IBM T.J. Watson Research Center
1989-March 1990 Postdoctoral Research Associate, Brown University
Awards, Honors, and Service
AAAS, Member of the Steering Committee of the Section on Physics (2023-present)
AAAS, Membership Engagement Chair of the Section on Physics (2023-present)
American Physical Society, Member-at-Large on the Executive Committee of the Division of Condensed Matter Physics (2021-2024)
AAAS, Member of the Electorate Nominating Committee of the Section on Physics (2020-2023)
Full Member, Sigma Xi, The Scientific Research Honor Society (2020)
NSF Committee of Visitors for the Division of Materials Research (2019)
Outstanding Referee, American Physical Society (2017)
Research Professor, Department of Physics, Florida State University (2017)
Distinguished University Scholar, Florida State University (2013)
Fellow, American Physical Society (2012)