Contact: Kristin Roberts
TALLAHASSEE, Fla. — It's been a pretty exciting week for MagLab Research Assistant Abigail Centers.
First, at an award ceremony on Monday, the Florida State University computer science major learned she had received the university's Undergraduate Tony DiBenedetto Student Employee of the Year Award. Bestowed on the outstanding undergraduate who demonstrates strength, skill, and character in his or her campus job, the award recognized the importance of a database and an instrumentation monitoring system that Centers implemented at the lab, as well as her high level of professionalism. The award was one of six presented that evening by the university's Career Center recognizing the positive impact of student employees.
"It was really surprising, and really amazing," said the FSU junior, whose Tallahassee family also attended the ceremony. "It meant a lot."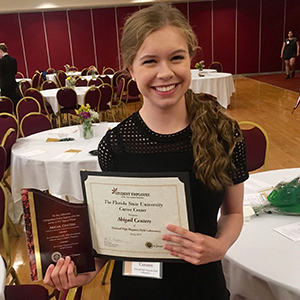 Photo credit: Taylor Centers
But the surprises didn't stop there. As Centers was walking off stage after receiving her award, she was asked to wait. As it turned out, Centers' impact had been recognized not just on campus, but throughout the region. Of 800 students nominated for recognition at colleges and universities across the south, the Southern Association of Student Employment Administrators (SASEA) named Centers its Student Employee of the Year. It is the first time FSU's institutional winner also received the regional award.
Surprised by the first award, Centers was stunned by the second.
"I didn't know it existed," she said of the award, which comes with a $500 check.
Centers said she felt honored to be recognized for something she loves doing.
"I like problem-solving. It's just kind of fun for me," Centers said. "It's hard and stressful sometimes, but I like being able to accomplish it and to see what the hard work does in the end, and see it help people."
Centers credited her MagLab mentor, Julia Smith, for encouraging her when the inevitable roadblocks pop up. "Under her guidance, I have learned a lot about what it takes to be a computer scientist," Centers said.
Smith, a research faculty member in the MagLab's DC Field Facility, first met Centers, then a rising sophomore, when she participated in the lab's Research Experiences for Undergraduates program. Centers developed a database during that summer that moved some of the facility's paper records into an easily searchable, user-friendly digital format.
"Her attention to detail during the debugging process of the database, as well as her diligence in ensuring that users of the system would get adequate training and support on how to use the database, were impressive to say the least," Smith wrote in her nomination letter to FSU.
Smith was so impressed she kept Centers on the payroll. Since that first project, Centers has gone on to design, build and implement a system that monitors the power supplies that feed electricity to the facility's magnets, recording the data in real-time and archiving it for later use.
"Abbey approached this project with the attitude and oversight of a high-level computer science professional," Smith wrote, praising Centers' initiative, work ethic and can-do attitude.
As SASEA regional winner, Centers will be one of four students considered for the National Student Employee of the Year Award later this month.
About 100 FSU students were nominated for the student employee awards given this week. It was the fifth year the Career Center has hosted the event.
"This ceremony is a reminder of the importance to recognize the vital student employee contributions to our University," said Li Pon, senior assistant director for experiential learning at FSU who manages the award program. "Studies have shown that engagement in student employment increases career readiness and positively correlates to success in post-graduation first destination plans."
Story by Kristen Coyne