Contact: Carlos R. Villa
TALLAHASSEE, Fla. — The Tallahassee Scientific Society announces the award of their 2021 Gold Medal to Carlos R. Villa, K-12 education director at the National High Magnetic Field Laboratory. The Society's Gold Medal, established in 2004, is awarded annually to a member of the Tallahassee scientific community to recognize outstanding career contributions to science, public service, and science education.
In his role as the K-12 Education Director at the National MagLab, the world's largest and highest-powered magnet lab funded by the National Science Foundation and State of Florida, Villa helps support educational programming at all academic levels. In his nearly 20 years at the MagLab developing and implementing science education programs – from field trips and summer camps to mentorship programs and tours – Carlos has reached tens of thousands of students across hundreds of schools.
"As one of the most recognized science educators in our community, Carlos clearly exemplifies all of the criteria that this award was created to recognize," said Kerry Maddox, President of Tallahassee Scientific Society. "His work with the National MagLab has touched the lives of almost every child in Leon and surrounding counties."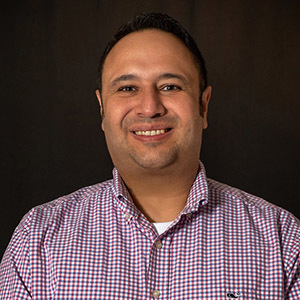 Villa is an active member of the Florida Association of Science Teachers (FAST), National Science Teachers Association (NSTA) and Big Bend/Leon Association of Science Teachers (BLAST). He has been recognized for his distinguished informal science education in 2018 by the NSTA and served on the National Selection Committee (NSC) review panel for the 2019, 2020 and 2021 Presidential Awards for Excellence in Mathematics and Science Teaching (PAEMST). An advocate for diversity in STEM, Villa is a SciGirls trainer and former STEP UP for Physics Ambassador.
As a Gold Metal Award winner, Villa joins the ranks of other outstanding MagLab honorees in our community including founding MagLab director Jack Crow (2004), Nobel prize winning chemist and MagLab user Harry Kroto (2008), ICR Chief Scientist Alan Marshall (2011) and MagLab Chief Scientist Laura Greene (2019).
MagLab Director Greg Boebinger also noted Carlos' wide impact, adding, "Carlos has been educating and entertaining so many students on behalf of the MagLab and in advancement of the MagLab's mission that I am proud to learn of this wonderful recognition of his many accomplishments."
When notified of his award, Villa replied, "I am honored to be recognized by the Tallahassee Scientific Society for my work at the MagLab. It would not have been possible without all of the scientists at the lab who have volunteered to serve as mentors, tour guides, and/or role models in our educational programs, showing students what real science looks like."
Typically, the Tallahassee Scientific Society hosts a public presentation and reception following the announcement of the Gold Medal winner, however, out of an abundance of caution, they plan to postpone those public events until January 2022. For more information about their upcoming events, joining the society, and a complete list of the Society's previous Gold Medalists, visit the Tallahassee Scientific Society's website.