Six teenagers from Leon County public schools spent their Fridays at the MagLab this fall, learning to use high-tech equipment and problem-solve in a world-class laboratory. In December, the middle-school students — all dressed in professional garb — gave PowerPoint presentations on their MagLab projects and received certificates of achievement for their work.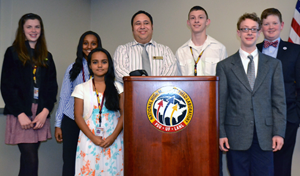 "You feel very accomplished," Sayeeda Aishee, an eighth-grader at Cobb Middle School, said about her work in the Middle School Mentorship Program. "You feel like you've really done something. It's a nice feeling."
She and her partner, Devin McKenna, an eighth-grader at Fort Braden School, worked with researchers Vincent Toplosky and Bob Walsh, who taught them how to use heat and pressure to strengthen a plastic material called ParMax.
"They were really fun and cool to be around," Devin said of his mentors.
Fairview Middle School student Quinn Huckaba, an eighth-grader, agreed.
"What surprised me the most was the way the scientists acted — they were surprisingly human," he allowed. "They're a lot like us!"
Quinn and his team partner, Grant Womble, worked with physicist Lloyd Engel. The boys built a scanning microwave microscope and used it to determine the thickness of a Euro coin.
"They did some coding, they learned about microwaves and they learned about imaging," Engel said. "They made a neat video of motors spinning and following their code. …This was not an easy project, but these kids did whatever needed doing. If it took extra time, they took the extra time. I was very impressed with both of them."
Grant felt an instant rapport with his mentor when he spotted Engel wearing a pin that read: "How to Raise Your IQ: Eat Gifted Children." Grant appreciated the wry humor so much that he snapped a picture of the pin and made it the background screen of his cellphone.
His mom, Jennifer Womble, said she was surprised how much her son and his lab partner enjoyed being at the lab.
"They kept wanting to come back; they kept wanting to spend a full day instead of a half day; they just kept wanting more and more and more time at lab!" she laughed.
When she spotted Grant's mentor wearing his "IQ" pin, she added, she knew he would be the perfect match for her son.
"I think the best part of it has been the exposure to the scientists, the lab, everything here," Womble said. "The two boys have had to work together on things and collaborate. This has been a fantastic experience for them."
The students also got a sense what doing science means.
"It's like a really fun experience, but also serious to work in a lab," said Devin. "There's a lot more to it than your average science class."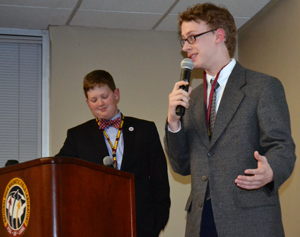 Sayeeda, his lab partner, said she was surprised at the diversity of the MagLab, where nearly 40 different languages are spoken.
"It's like traveling around the world," she said.
Devin nodded. "You see people from China and Germany and everywhere in the lab. It makes California seem really close."
Two other students, Omie Coyne and Hana Kiros, also participated in the program, which is a partnership between Leon County Schools and the MagLab's educational outreach division, the Center for Integrating Research + Learning. Mentor Dmitry Smirnov showed them how to perform optical spectroscopy on synthetic diamonds and make comparisons.
"When students get to see science being done outside of their classrooms, that helps them understand that what they're learning in school really does have real-world applications," said Carlos Villa, the lab's K-12 outreach coordinator. "These kids get to work on projects that normally would never be available to them."
Teachers and administrators with Leon County Schools will handpick students from around the county for the program again in the fall of 2014.
By Public Affairs