When physicist Komalavalli "Komu" Thirunavukkuarasu had a baby a few years back, a lengthy maternity leave wasn't an option.
As her family's primary breadwinner, she had to return to work ASAP as a postdoctoral researcher studying the behavior of materials at the National High Magnetic Field Laboratory (National MagLab). She also felt like she couldn't take time off due to the unforgiving nature of academia.
"It's not yet very common that if you lose a few years due to personal reasons you can get back on track," she said. "I was struggling to balance my job as a postdoc and as a mom."
Her colleagues began to pitch in, babysitting while she finished meetings or bringing her food.
"The help I received from friends was life-changing," said Thirunavukkuarasu, who is now a visiting research associate at the National MagLab and an assistant professor of physics at Florida A&M University in Tallahassee. "I owe most of my success to my friendships with colleagues."
Thirunavukkuarasu isn't the only woman scientist singing the praises of co-worker companionship.
Photo credit: Stephen Bilenky
While science's gender gap is closing, women are still underrepresented in many science, technology, engineering and mathematics (STEM) fields, particularly physics. A 2019 report from the American Institute of Physics (AIP) found that, compared to men, women report slower career progression, fewer career resources and opportunities, and are more likely to make compromises, such as working less or quitting due to family reasons. Additionally, half of women working STEM jobs said they experienced gender-based workplace discrimination in a 2018 Pew Research Center report.
But one thing seems to make navigating a career as a woman scientist a whole lot easier: friendship.
"Friendships are especially important for underrepresented groups because it makes you feel that you're not alone," Thirunavukkuarasu said. "It always helps to see that others have similar struggles, especially someone senior to you who is successful in spite of them."
By connecting over shared experiences of marginalization, women in science can motivate each other to continue down their chosen career paths, despite the bumps.
"All you need sometimes is someone else to say, 'That happened to me too.' It's validation. It gives me goosebumps just thinking about it," said Amy McKenna, a chemist at the National MagLab. After realizing how crucial friendship is to herself and other women scientists, she and a few colleagues created a group for women at the MagLab a year and a half ago. Since then, 15 to 20 faculty members have converged regularly over coffee.
"We just kind of sit around and talk about science," said McKenna. Since its inception, the coffee hour has spread to the rest of Florida State University, where MagLab headquarters is based, and is now formally titled the FSU Women Faculty in STEM Network. At the meetings, women discuss everything from resources, networking and grievances to faculty development topics like proposal writing.
"It's a space for women to have conversation without fear of judgment," McKenna said. "We've found that women are more inclined to speak up and talk about their issues."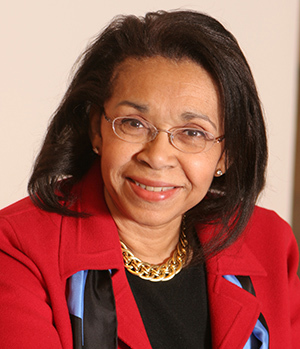 Photo by Michael Colella/AAAS
Talking seems to be key. Though trained as a biologist, Shirley Malcom has spent most of her career at the policy level attempting to diversify science education and considers herself a "Jill of all trades related to diversity." She currently serves as the senior advisor at the American Association for the Advancement of Science (AAAS) and the director of STEM Equity Achievement Change, or SEA Change, an AAAS initiative that supports institutional diversity, equity and inclusion in STEM.
"I'm not just a woman, I'm a woman of color," she said. "So I get hit with multiple stuff. Being able to talk through things is just much better for my mental health. You need people who can help you gain perspective."
Her science friends follow up the talk with action. The day her mother died, for example, Malcom called a friend and colleague for comfort; the woman agreed to give an important presentation in Malcom's place.
Laura Greene, another highly accomplished member of the scientific community, also credits her friendships with getting her where she is today.
"Friendship has been vital, it's been crucial, it's been life-saving," said Greene, the MagLab's chief scientist and the Krafft Professor of Physics at FSU, who studies quantum materials.
Over the years, Greene has encountered women who considered leaving science due to the stress of harassment and discrimination. "One thing I found over so many years is that when you're feeling harassed, you tend to blame yourself, rather than the actual source of the problem," she said. "That's why it's so important to talk to each other."
At times the only woman in her class at graduate school, Greene says she wouldn't have made it without her best friend. Even now, she uses friendship to cope. "I may be a well-established scientist," said Greene, a member of the National Academy of Sciences, a fellow of the American Academy of Arts and Sciences, and a former president of the American Physical Society, "but I still need my friends to talk to — more often than you might guess."
Although women continue to experience the hardships that accompany underrepresentation, the percentage of women earning physics doctoral degrees and working as faculty members continues to grow over time, according to last year's AIP report.
"I am hopeful," Thirunavukkuarasu said. "I would say now is more or less the best time for younger people to come in because there's a lot more support than 15 years ago. We have put solid structures in place like mentoring programs and internships."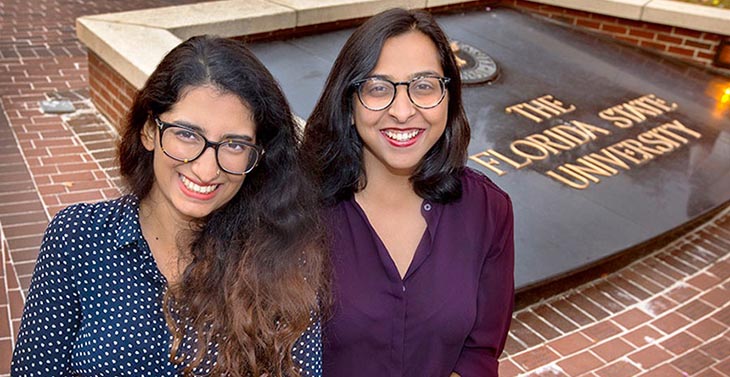 Photo credit: FSU Photography Services/Bruce Palmer
One young scientist benefiting from these structures is Nastaren Abad, a former research assistant at the MagLab who used magnetic resonance imaging to shed light on migraines. When she came to FSU in 2014 from Pakistan, she joined a living-learning community for female freshmen that seeks to increase retention of women in STEM by creating a supportive environment, which includes fostering relationships among students.
"Some of my main friendships have been from the women I met there," said Abad, who found the community especially supportive as an international student.
Abad, who recently completed a Ph.D. in biomedical engineering and started a new job at General Electric, is paying forward the help she's received by informing others about gender discrimination and other biases. At the annual meeting of the International Society for Magnetic Resonance in Medicine last year, Abad and other young scientists in her lab group organized a session titled "Overcoming Bias." After a panel discussion on unconscious and conscious bias in academia, attendees played games to identify their hidden biases.
"Overall I'm feeling really optimistic," Abad said, "because there's more awareness and talking about everything."
More awareness could lead to a more diverse body of scientists, which studies suggest can increase creativity and productivity of research teams.
"I think that across-the-board diversity in science is the key to making the next great breakthrough for issues that affect everyone, like antibiotic resistance and global climate change," McKenna said.
Until then, Malcom suggests women stick together.
"Find each other. Support each other," she said. "Together we can try to change the attitudes and the practices and the policies that disadvantage women and girls in science."
Story by Chris Patrick