Tallahassee is home to a number of extracurricular STEAM (Science, Technology, Engineering, Art, and Math) activities and summer camps, many of which are available free of charge or provide need-based scholarships. Importantly, many of these programs are also within reach by public transportation.
Highlights
Participants: K-12
Cost: Free
Event schedule: March-April, annually
In addition to our own in-house summer camps, National High Magnetic Field Laboratory is helping Tallahassee South Side residents find right STEM activities by running the annual Neigborhood Camp Fair for grades K-8, and its twin event, Neighborhood Summer Camp And Internship Fair for grades 6-12 (advertized as Summer Internship Fair).
The K-8 Neigborhood Camp Fair is an indoor science and arts festival where camp vendors can provide hands-on activities to encourage student participation in their respective camps. Students visit along with their families and friends to learn about camps, enjoy a day of science, and find camp registration information.
The Summer Internship Fair is similar in nature, but with focus on middle and high school students. Summer internships and pre-college summer programs at TCC, FSU, and FAMU will have a presence as well.
The Fairs are free and open to the public. Vendor participation is also free of charge.
Event Details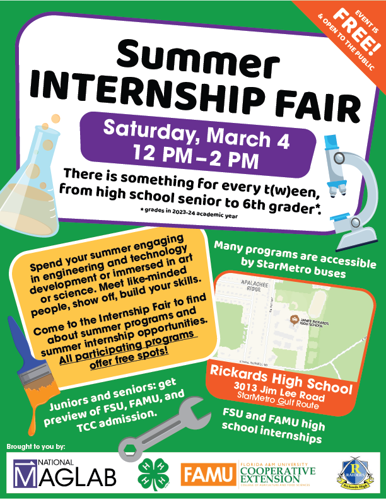 2023 Summer Internship Fair for grades 6-12
When: Saturday, March 4, 12 noon – 2PM
Where: Rickards High School cafeteria: 3013 Jim Lee Road, Tallahassee, FL 32301
Vendor registration is available through February 24, 2023.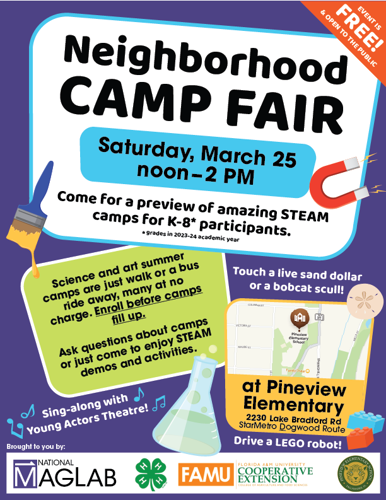 2023 Neighborhood Camp Fair for grades K-8
When: Saturday, March 25, 12 noon – 2PM
Where: Pineview Elementary School cafeteria: 2230 Lake Bradford Road, Tallahassee, FL 32310
Vendor registration link will be available soon.
---
The project is run by Magnet Lab faculty, with help from FAMU Cooperative Extension, Tallahassee Scientific Society, as well as Pineview Elementary school.
For more information contact Ilya Litvak.