Andrey V Gavrilin
Research Faculty III
Magnet Science & Technology, Scientific Staff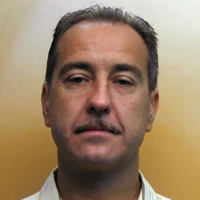 Contact Information
Email
Gavrilin@magnet.fsu.edu
Phone
(850) 645-4906
Fax
(850) 644-0867
Address
1800 E. Paul Dirac Dr.
Tallahassee , FL 32310-3706
Building
NHMFL FSU
Educational Background
Ph.D., Thermal Physics & Nuclear Power Installations, Moscow Engineering Physics Institute (Technical University), Moscow, Russia, 1997.
B.Sc. & M.Sc., Magna Cum Laude, Engineering Physics, Moscow Engineering Physics Institute (Technical University), Moscow, Russia, 1983.
Research Interests
Magnet Science & Technology: mostly Large Scale Application of Superconductivity (LTS and HTS superconducting magnets), and also resistive dc and pulse magnets: magnet design and design optimizing, theoretical analysis and complex computer simulation, particularly, through the finite element and finite difference methods (quench & quench protection, normal zone propagation, stability margins, 2D & 3D static and transient electromagnetic, thermal, complex thermo-hydraulic and stress analyses, magnetic field calculations, current power lead design study & optimization, heat transfer, fluid mechanics, other related problems), applied mathematics & numerical methods; favorite software for computer simulation & analysis: ANSYS (with APDL & Workbench), Fortran, MATLAB, Vector Fields, Origin.
Professional Experience
Joined the NHMFL in December of 1999 as an Assistant Scientist; Scholar/Scientist (Research Faculty III) since August 01, 2010; worked on design and design optimization, including stress, electromagmetic and thermal analyses, of a variety of pulse high field magnets (for the Los Alamos National Lab: 55T, 60T, 65T, 75T, 100T, "quick cool" pulsed magnets, Repetitively Pulsed Magnet); was/is involved, as a magnet analyst and designer, in a number of projects on innovative superconducting magnet R&D such as the 900 MHz Ultra-wide Bore NMR Magnet, the Compact Sweeper Magnet for NSCL, the Series-Connected Hybrid magnets, 45T Hybrid Magnet for Nijmegen, NHMFL 32T HTS/LTS all-superconducting user magnet, other advanced HTS magnets, tilted/canted coil magnets. The international level of integrity, competition and expertise in quench protection, current power leads engineering (all kinds), thermal, thermo-hydraulic, electromagnetic, structural mechanical and quench analyses, design and design optimization of up-to-date superconducting, hybrid, and resistive magnet systems.
Working in Magnet Science & Technology, Applied Superconductivity, and Cryogenics areas since 1981; before had the fortune to work at :
European Organization for Nuclear Research (CERN), Geneva region, Switzerland / France, May - October 1999, Project Associate (invited cross-check expert), ATLAS Magnet Project at the LHC ;
National Institute for Fusion Science (NIFS), Toki-city, Gifu, Japan, Large Helical Device Project; May 1998 - April 1999, Visiting Professor ;
Institute for Superconductivity & Solid State Physics of Russian Research Center "Kurchatov Institute", Moscow, Russia, 1994 - 1998, Lead Engineer, Research Associate, Principal Programmer/Analyst ;
P.N. Lebedev Physical Institute of the Russian Academy of Sciences (FIAN), Solid State Physics Dept., Applied Superconductivity Div., Moscow, Russia, 1990 - 1994, Researcher ;
Moscow Radio -Technical Institute of the USSR Academy of Science, Moscow, Russia, 1986 - 1990, Researcher ;
Moscow Engineering Physics Institute (Technical University), Moscow, Russia, 1981 - 1986, Undergraduate, Graduate and Post-graduate Research Assistant .
Publications and Scientific Activities
Loading Recent…
Loading Publications…
Loading Books…
Loading Grants…
Loading Presentations…
Loading Theses…
Loading Products…
Loading Disseminations…