What did scientists discover?
MagLab researchers found a way to improve both the mechanical strength and electrical conductivity in Copper-Chromium-Zirconium (Cu-Cr-Zr) conductor. These two properties tend to compete: when one increases, the other decreases. Researchers found a way to combine aging and cold drawing to optimize the size and distribution of nanoscale particles and make the conductor exhibit their desired properties at both room temperature and cryogenic temperatures.
---
Why is this important?
Cu-Cr-Zr conductors are commercially available, but they have been unsuitable for use in pulsed magnets because they lack the requisite combination of strength and conductivity: conductivity greater than 80% of pure copper and strength greater than the steel in automobile body panels. The development of this new processing protocol enabled the MagLab to engineer the microstructure of the conductor to simultaneously improve both strength and conductivity.
---
Who did the research?
R. Niu1, V. Toplosky1, W. Starch1, T. Adkins1, I.R. Dixon1, J.W. Levitan1, J. Lu1, D. N. Nguyen2, and K. Han1
1Florida State University; 2Los Alamos National Laboratory
---
Why did they need the MagLab?
The MagLab has a rare capability to characterize candidate conductor materials from the atomic scale up to the full conductor dimensions of several millimeters on a side including atomic-resolution microscopes, unique cryogenic mechanical testing facilities, and special fabrication and inspection equipment tailored for high-strength conductors. MagLab metallurgists and materials scientists bring expertise that is both broad and deep to the advancement of high-strength conductors.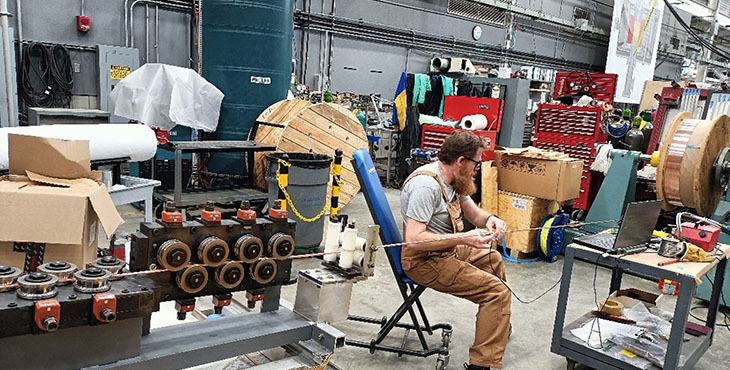 ---
Details for scientists
---
Funding
This research was funded by the following grants: G.S. Boebinger (NSF DMR-1644779 and DMR-2128556)
---
For more information, contact Ke Han.