At the Magnet Lab, we have some of the world's most powerful magnets, impressive feats of engineering and design. But without an instrument called a probe, these magnets would be about as useful as a power drill without a bit, thread without a needle or a safe without a key. So it should come as no surprise that in addition to boasting some of the best magnets on the planet, we're a world leader in designing and building magnet probes. In "Meet the Probes," we take a look at four such probes, designed and built here at the lab. But first we must answer the question, "What is a probe?"
---
What's a probe?
Like the magnets themselves, magnet probes are at once very simple and very complex. On the simple end, they are essentially sticks – about as tall as the scientists who use them – that allow researchers to place their experiments inside the magnet's field. Our magnets are cylindrical, featuring hollow cores (called bores) running from end to end. Researchers secure their experiments to the end of a probe, and then lower it down (or raise it up) into the middle of the bore, where the magnetic field is strongest.
"Without a probe, we cannot do anything," says Victor Schepkin, a MagLab scientist. "Without it, we would have a magnet, and that's it."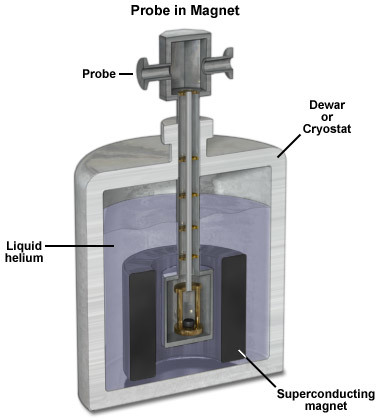 That's where "simple" ends and "complex" begins. Because in addition to physically delivering a sample into a magnetic field, probes monitor conditions in the magnet, measure changes (in temperature, phase, pressure, chemistry) occurring in the sample, analyze the makeup of the sample, and communicate all that data to the computers and scientists outside the magnet.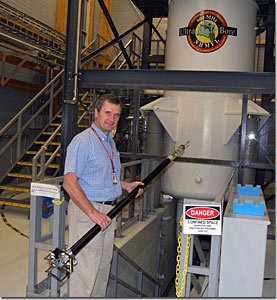 Probes used in Nuclear Magnetic Resonance (NMR) magnets are particularly complex, because they require tiny radio frequency coils on top of all the other components.
Were there no space constraints, making a probe would be a relative cinch. But magnet bores are quite narrow: The 105 millimeter-diameter bore (about 4 inches) of our 900 MHz NMR magnet is considered spacious. It takes a lot of knowledge, ingenuity and experience to miniaturize all the parts so that they fit – and function – in such a small area.
"It all has to go through this tiny bore, and it all has to be controllable," explains MagLab engineer Peter Gor'kov, who designs and builds probes. "That's where all the effort goes. If it were just on an open table, it would be easy." Adding to the challenge: Probes can't be made with any magnetic materials, due to the high fields in which they're used. Instead, engineers rely on materials such as brass, plastic, copper and aluminum.
---
Nothing beats homemade
Gor'kov is part of a team at the lab renowned for its work designing and building probes. Unlike most mechanical and electrical engineers, who are specialists in their field only, our probe experts cross disciplines comfortably. "Rarely you see the person who is good at both," notes Gor'kov. "It requires integrative thinking."
Though commercial probes are adequate for many experiments, some of the cutting-edge research done at the lab requires novel tools. In Meet the Probes, we take a look at the following four such probes, designed and built here at the lab.
---
For more information, please contact Public Affairs.